Book Two
From the Eden Falls Series
Buy the eBook
Buy the Paperback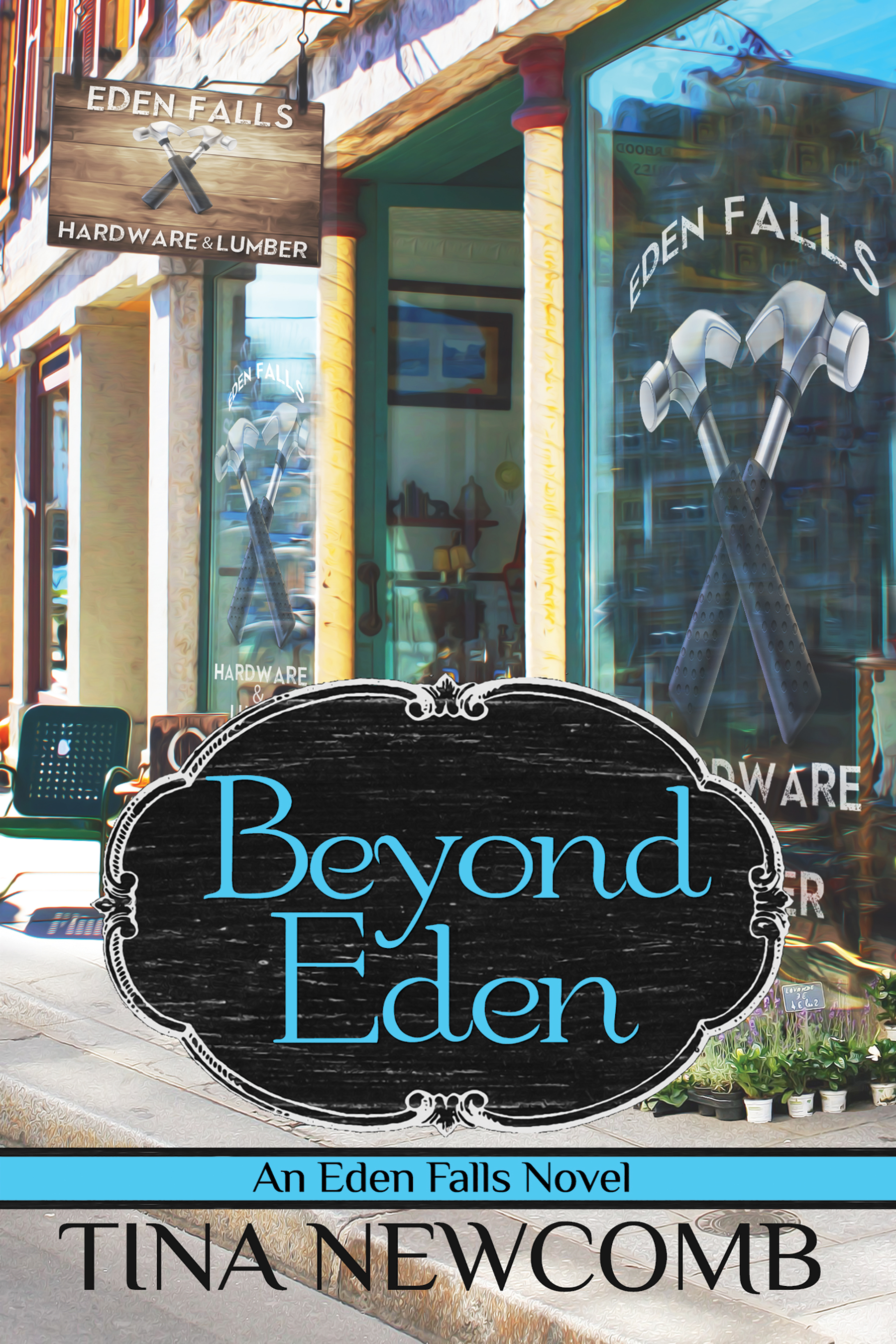 Excerpt from Beyond Eden
Chapter 1
Misty Garrett grabbed her distended belly with both hands and hissed, air whistling through her clenched teeth. The rock hardness of her stomach sent a chill through her, even as perspiration wet her hairline and upper lip. The bone deep ache that had plagued the small of her back all morning crept around her sides and dug in with claws extended. She sucked in a ragged breath and exhaled on a groan.
Just as suddenly as it struck, the pain eased leaving her limp as wilted lettuce.
She eased back in her father's recliner and wiped the sheen of sweat from her forehead with the tail of her husband's flannel shirt.
Her due date was still two weeks away, so she couldn't be in labor.
At her last appointment, Dr. Jessica Thompson had assured Misty and her worrywart husband that everything was right on schedule.
"I've heard most first babies come late," Misty's husband said.
The doctor looked up from between Misty's knees and smiled at Beam. "Most first babies do come late, but every birth is different."
"So we should stay close to Seattle just in case."
"Well, don't feel like you can't go places, but I wouldn't recommend traveling very far."
Her doctor had yammered on and on about what they should do if… Make certain they had… She even mentioned something about false contractions. By that time, Misty's eyes had glazed over. Even the Energizer Bunny would be yawning after a few minutes of Dr. Thompson's monotone. If Beam were here, he'd repeat the doctor's monologue verbatim. Her husband's rapt attention, note taking, and quoting from pregnancy books was equivalent to living inside the Discovery Channel.
Misty rubbed two hands over her belly. All was still, so she picked up the carton of Ben & Jerry's Cherry Garcia she'd dropped on the side table. The ice cream was now soft enough to dig out the chocolate chunks and sweet pieces of cherry. She scooped a bite into her mouth and turned her attention back to the exciting drama unfolding on the Real Housewives of somewhere. The major mischief-maker was on the verge of being discovered and… "Awwhhh!"
Viselike tentacles of agony seized, doubling Misty forward, squeezing until she thought she might implode. She struggled for air, desperate to remember what to do, but her only clear thought was, if Beam were a gloating man, this would be his moment to shine. When she'd insisted on coming to Eden Falls, he'd argued she was too close to her due date, the weather in January was unpredictable, being two and a half hours away from Seattle and her doctor, who said to stay close to home, was irresponsible. She'd ignored his protests and come anyway.
When the pain eased, Misty heaved herself from the chair and waddled toward the kitchen where her cell phone was charging. She dropped the ice cream carton into the sink with one hand, and held her stomach up with the other. This baby was not coming out until Beam got her back to Seattle. He'd gotten her into this condition, and he would witness every throe of agony she was forced to suffer.
She gasped as warm liquid flooded down her legs. Bending over, she tried to see the puddle now soaking her socks. At least she'd made it to the tiled kitchen. Sorry Dad.
She grabbed her phone, and a new panic struck. Who could she call? Her dad's truck driver called in sick this morning, so he had to make a large lumber delivery himself. He'd be without cell coverage most of the day. Beam would take over an hour to get here in the Cessna, and that was only if he wasn't already chauffeuring a group of gawking tourists out to see Seattle from the air. Then the flight back would be another hour. She needed someone now. Stella was in a classroom surrounded by screaming second-graders, and Jillian would be at the gym, which left only one option.
She gripped the countertop for support when another pain ripped through her middle. More of Beam's words ran through her head, "We've got to attend prenatal classes, Misty. We need to know what to expect."
"What's the point?" she'd argued. "The doctor promised drugs, and I intend to get them, so there's no reason to sit on the floor of the clinic learning to breathe with a bunch of strangers."
Except now there is.
How did the women in movies do it? In through the mouth and out through the nose or was it short quick breaths? The pain slowly subsided before she could decide which method to try. Next contraction, she'd use them all.
She scrolled through her contact list until she reached the name of her go-to friend of twenty-two years, the one she'd refused to talk to since New Year's Eve. She hit the call button and put the phone to her ear.
After an eternity, she heard, "Good morning. Pretty Posies."
The happy voice made her eyelid twitch. "Put Alex on the phone."
"Misty?"
"Tatum. Get Alex!"
"Okaaay."
Misty wondered, for at least the zillionth time, why Alex had hired someone as incompetent as Tatum Ellis. After waiting an eternity, she decided to hang up and call back. Just as she pulled the phone from her ear, she heard, "Hello, Misty."
"I'm in labor and Beam's not here. You have to drive me to Seattle."
"Where are you?" The cautious tone Alex answered the phone with had been replaced by her no-nonsense business one.
"My dad's."
"How far apart are your contractions?"
"I don't know." Misty glanced at the puddle on the floor. "My water just broke."
"I'll be right there."
Misty disconnected the call and wrapped both hands under her stomach, which felt like it had dropped to her knees. She hated when her husband was right. She should have listened to him—not that she'd admit that aloud.
Walking up the stairs was a slow process, but she finally made it to her childhood bedroom. Longing tugged at her heart. Childbirth was a mother-daughter moment she wouldn't get to share with the woman who'd walked away over twenty years earlier.
Frills and girly ruffles still adorned the bedroom her mom decorated when Misty was five. A nearly threadbare pink and white gingham comforter covered the white canopy bed. The doll her mother bought for Misty's sixth birthday held a place of honor near the headboard, propped into a sitting position by delicate eyelet pillows. Misty's pink ballerina jewelry box and a photo of her mom at the base of Eden Falls, her happy smile forever frozen in black and white, were side-by-side on the matching white dresser.
Misty hadn't changed a thing. One day her mother would return and be thrilled Misty had kept everything exactly the same.
She felt another pain building, and stumbled to the edge of the bed, gasping for breath from her already oxygen deprived lungs. One moment, she was afraid she might pass out, and the next, she wished she would. The last nine months, from peeing on a stick until now, had been a nightmare. One she couldn't awake from no matter how hard she pinched herself.
When the pain released its clenching grip, she pulled off her wet things and wiggled into dry panties and a pair of warm but extremely tight leggings. She had eaten her way through pregnancy. Each day introduced new cravings. She discovered unique and quite ingenious ways to add chocolate or maple syrup to almost anything. This baby had kicked, elbowed, and stretched her body into a blimp. Once she gave birth, a few visits to her in-laws' gym for some much-needed toning would get her back to her original size four. These excruciating pains marked the countdown. She would be back in a bikini by June, less than six months away.
She discarded the thought of calling Beam's parents as soon as it popped into her mind. Dawson and Glenda Garrett's enthusiasm about first-time grandparenthood was over the top when she wasn't in labor. Being happy all the time should be against the law, but happy ran through the Garrett clan like blood through veins. And she'd married smack into the middle of them.
Stepping into the adjoining bathroom, she made the mistake of glancing in the mirror. Her unwashed hair pulled into a high ponytail highlighted her blotched, puffy face, which looked even worse than usual. She hadn't worn makeup in a week, trying to clear up a pimple outbreak on her forehead. Her black eyebrows had almost grown together in the middle since her last waxing, and the mole near her chin—which she'd always believed to be alluring—had a coarse black hair sprouting from the middle. She pulled open a drawer, but before she could grab tweezers to perform a quick extraction, another contraction shot through her middle, paralyzing her.
The doorbell chimed, yet she was helpless to do anything but grimace through a pain too intense to yell.
Please, please, let the door be unlocked.
She released a sigh of relief when she heard a male voice echo up the stairs. Beam! But he wouldn't ring the bell. He has a key.
"Misty?"
She released a groan and not from pain. JT Garrett. What was he doing here?
She sank to the toilet seat as his heavy footsteps hit the kitchen tile. "What the…?"
Great. He found the puddle I left.
Suddenly, the footsteps thudded up the stairs. "Misty? Where are you?"
He appeared, filling the bathroom doorway, taking up too much space, a talent the Garrett family seemed to possess. His dark hair and the shoulders of his police chief overcoat were covered in snow. "I hear my first cousin once removed is ready to make her appearance." His expression turned thoughtful. "Or is she my —"
"Shut up."
"You okay?"
Misty wanted to smack the smile he was fighting from his face. "No, I'm not okay. I'm having a contraction."
He leaned against the doorframe and lifted a booted foot. "Yeah, I think I just stepped in one of those contractions."
She glared, trying her best to look fierce.
Losing the fight, he grinned. "It's good to see labor hasn't clouded your sunny disposition."
She was in too much pain for a witty comeback. "Where's Alex?"
"She's right behind me. She thought my SUV would be a more comfortable ride to Harrisville Regional than her dilapidated Jeep. Can you stand?"
"I'm not going to Harrisville Regional. My doctor is in Seattle."
He flashed an indulge-the-female glance as he slid his arm around her waist and helped her to her feet.
"Don't look at me like that. You're a cop. Turn on your lights and sirens, and get me to Seattle."
"How far apart are your contractions?"
She wrapped a hand under her belly and inhaled as deeply as possible. "I don't know."
The front door opened and slammed shut. "Misty?"
"We're upstairs," JT shouted.
Another set of footsteps pounded up the stairs and Alexis Blackwood careened around the corner, narrowly missing them in a head-on collision.
JT put his hand out to protect Misty's stomach. "Whoa."
"How we doing?" Alex asked breathlessly.
"Peachy keen. What took you so long?" Misty mumbled.
She and Alex had been best friends since kindergarten, but that had changed on New Year's Eve when Alex announced her engagement to bestselling author Colton McCreed.
"Aww, there's my sweet natured friend. I've missed you."
Misty scowled at the traitor.
Alex winked and ducked under her other arm. The brother-sister team got her halfway down the stairs before she sank to a riser, another contraction ripping through her. Alex rubbed her back and babbled instructions. JT gave her a hand to squeeze. After endless minutes, they finally reached the living room sofa.
"Where are your boots? It's snowing," Alex asked.
"In the bedroom."
Alex ran up the stairs. "Not your five-inch stilettos, Misty. Your sensible snow boots," she yelled, running back down. "Did you bring sensible boots with you?"
"Here they are," JT said carrying a pair into the living room along with Misty's coat.
Alex knelt in front of her and held out a boot. "Where are your socks?"
"I got them wet when my water broke."
"Oh, that reminds me." JT went into the kitchen.
Misty heard paper towels pulled from the roll and assumed Dudley Do Right was cleaning up the puddle she'd left. Alex made a third trip up the stairs. She ran down with clean socks in hand. "Is Beam on his way?"
"I haven't called him."
Alex performed her legendary—pursed-lip, squinted-eye—judgmental expression.
"When exactly would I have had time?"
"JT call Beam," Alex called to her brother.
JT returned to the living room, cell phone in hand. "I already did. He's on his way, but with the storm, he'll have to drive. Glenda and Dawson will meet us at the hospital."
"Call Beam back and tell him not to come here. I'm having the baby in Sea—" Misty released a low moan and grabbed her stomach when the next contraction took her body hostage.
JT offered his hand again, and Alex massaged her lower back. "Keep your breathing rhythmical, Misty. Your in-breath should match your out-breath. I know it hurts, but try to relax. As soon as this one is over, we'll get you in the car."
"I'm not going to a backwoods hospital to have some country bumpkin deliver this baby," Misty hissed on an out breath. She glared at JT. "You have to get me to Seattle."
"You're going to deliver this baby on your dad's living room sofa if we don't get going," JT said. "Your contractions are less than five minutes apart."
Misty swung a fist that connected with JT's chest. "I don't care if the baby is half out of my body. I'm not going to Harrisville."
JT and Alex ignored her as they helped her down the front steps to the SUV. She hefted her rear end into the backseat, and Alex followed. JT shut their door and ran around to the driver's side.
Misty massaged her belly and tried to relax the tight muscles. No one had warned her how bad this would hurt. She knew it wasn't going to be a walk in the park, but there were supposed to be drugs involved. She'd been promised drugs.
She glanced through the front windshield when JT turned left instead of right as they exited her dad's neighborhood. "This isn't the way to Seattle, JT."
"Misty, it takes two and a half hours to get to Seattle on a good day. It's snowing, the roads are slippery, and your contractions are less than five minutes apart. I'm taking you to Harrisville, which is only fifteen minutes away. You can argue with the hospital staff about an ambulance ride to Seattle."
"I hate you."
He caught her eye in the rearview mirror. "You'd hate me even more if we had to deliver this baby on the side of the road."
She imagined JT pulling over and her baring her assets for the passing cars with Tweedledee and Tweedledumb as her delivery team. She turned her glare on Alex who winked. "I hate you, too."
"It's wonderful to see my good natured friend back to her old self. I was afraid labor might dampen your happy spirits." Alex echoed her brother's earlier sentiments, sealing it with the same Garrett grin.
The whole situation enraged Misty even as an unladylike snort of hysteria escaped. She was in labor, her ex-boyfriend was driving her through a snowstorm to a hospital in the sticks, while her ex-best friend sat beside her, and the baby's father was stuck in Seattle. This was the perfect setup for a comedy.
Or a horror flick.