Book Three
From the Eden Falls Series
Buy the eBook
Buy the Paperback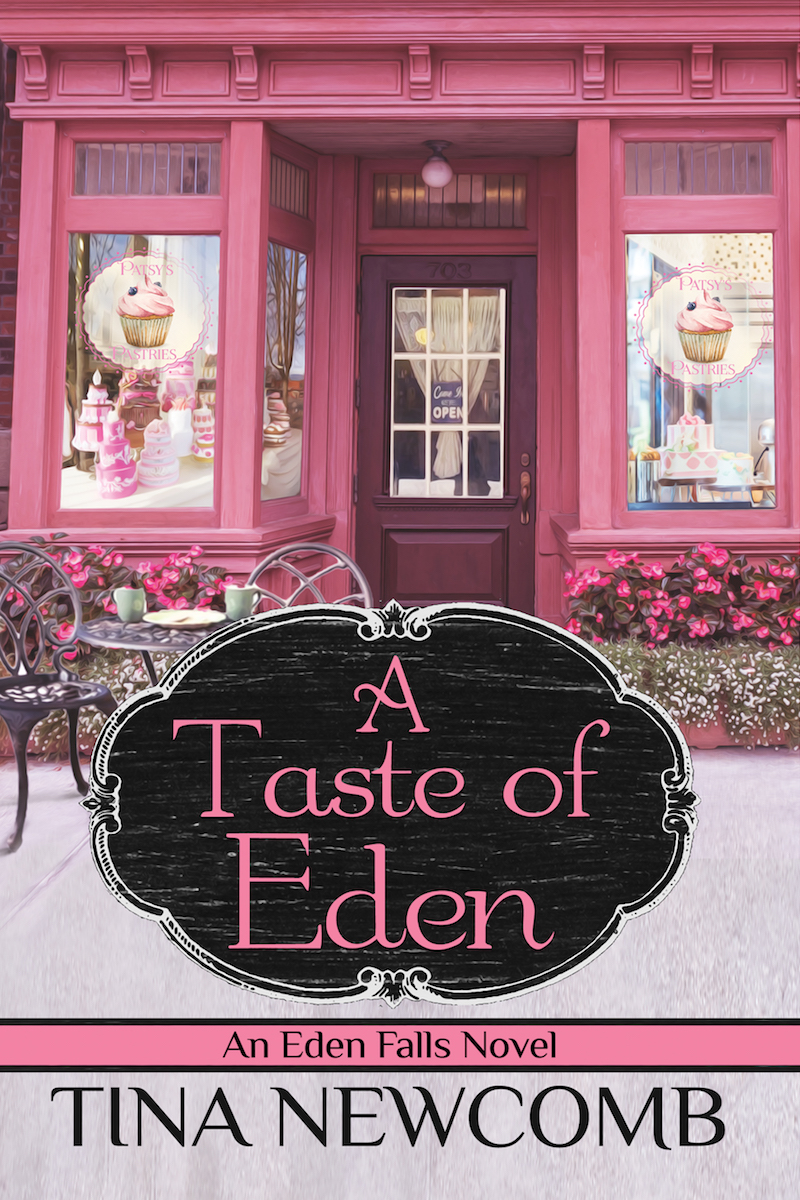 Excerpt from A Taste of Eden
Chapter 1
Carolyn West Richmond pushed the pile of clothes down with one hand while yanking the zipper with the other. The new suitcase didn't hold much, but she couldn't risk taking her own.
She hurried to the spare bedroom and reached for a collapsed cardboard box from underneath the bed. Unfolding it, she secured the bottom flaps with packing tape she'd shoved between a stack of sheets in the linen closet. Quickly, she filled the box with new clothes and shoes she'd hidden in garbage bags labeled "give away" in the back of the guest room closet. Leaving her daily wardrobe behind would buy her a few more precious hours.
Running into the master bathroom, she tripped on the edge of the rug and smacked her hip against the corner of the vanity. That's going to leave a bruise. The thought almost made her laugh. Almost.
She opened a drawer. Mascara, moisturizer, concealer. These items could be bought on the road. Her goal was to travel light. She started to shut the drawer, changed her mind, and grabbed the concealer. After checking that both toothbrushes were aligned in the holder, she hung two clean bath towels and straightened the rug. The used towels went into the hamper. She left the room, but returned to run a wet paper towel around the already spotless sinks.
In the bedroom closet, she placed a stepladder under the attic opening, slid the door to the left, raised the insulation, and groped around blindly until her fingers clasped a strap. She lifted a small backpack from its spot, tamped the insulation back into place, and positioned the door evenly before climbing down and stowing the ladder. Halfway out of the closet, she hesitated, went back, and ran a hand over the carpet to erase any indentations. Unzipping the backpack, she shifted through the stacks of twenty-dollar bills wrapped with currency straps—her ticket to freedom.
The phone rang and she froze. She glanced around the bedroom, searching for the hidden camera she'd always suspected but could never find. The phone rang again, the harsh sound echoing through the quiet house. She had no choice but to answer. "Hello?"
"Why do you sound breathless?"
"I…ran for the phone." Carolyn put a trembling hand to her forehead. Stay calm.
"I called a minute ago. You didn't answer."
Liar. "I was cleaning—running the vacuum. I didn't hear the phone."
"What are you vacuuming?"
Stupid answer. Now I'll have to vacuum, and there's no time.
"Carolyn?"
She glanced at the ruffled carpet in the closet. Her imperfect camouflage would be covered up with a swipe of the vacuum. "Our bedroom."
"I noticed my bathroom sink looked a little grimy this morning."
Another lie. "Next on my list."
She heard him expel a breath into the receiver and knew what was coming.
"About last night. I didn't expect you to come home early."
Of course, it's my fault that I came home to find my husband with his lover.
"I'm under a lot of stress with the Blanchard account. Taren came over to help me brainstorm."
Carolyn closed her eyes. "Brainstorming wasn't what I walked in on."
"You have no idea the pressure I'm under at work, the stress I endure to provide you with a home and pretty clothes!"
"I work, too, Robert."
"I'm trying to say I'm sorry that things got out of hand," he said, his tone softening.
Again.
"Carolyn, you know it didn't mean anything. You are the only woman in the world for me."
Until your next brainstorming session.
"Look, it wouldn't hurt you to be a little more understanding."
There was so much she wanted to say, and this would be the perfect moment. There would be no repercussions. Thoughts scrambled to the forefront of her mind, but the words would fall on deaf ears. Anything she said would only make him mad, and possibly raise suspicion, since she'd been meticulously taught not to speak out. Besides, they were beyond words, and had been for a long time.
"You know I love you."
You have no idea what love means, and never will.
"Did you hear me?"
"Yes…me, too."
"You too, what?"
Carolyn put a hand to her throat to ease the building pressure. Maybe Rob was right. Maybe his making love with Taren meant as nothing as the words he was forcing her to say. "I love you, too."
"How about we go somewhere nice next weekend? We'll take a few days off and just get away."
"That's not necessary, Rob."
"Honey, how many times have I told you to call me Robert?" His voice had taken on the hard edge she was so familiar with. "Shortening my name is unprofessional."
"I don't do it in front of your coworkers." Even last night when I opened the bedroom door and found you and Taren tangled in our sheets—the sheets you made me sleep on as punishment for coming home early—I called you Robert!
"Don't do it at all."
A female voice murmured in the background, and Robert cleared his throat. "I have to go. I have a meeting. I'll call you at the restaurant."
He always did. Three o'clock on the dot to make sure she'd arrived. Five o'clock to make sure she was still there. Nine o'clock to check once again before he went to bed. Only tonight someone would be covering for her. "Okay."
"I'll make something special for breakfast, baby."
"Breakfast sounds nice."
"I'll see you in the morning. Oh, and be real quiet when you come home. We didn't get much sleep last night."
He was right. She was berated for coming home early in front of her husband's lover. After Taren left, the berating became violent.
Unfortunately, her compliance to his request for quiet was never reciprocated. Robert making breakfast entailed a gigantic pot-banging mess. After only three hours of sleep, she'd be expected eat with him, clean the kitchen afterward, and complete a list of chores. Only then would she be able to fall into bed for a quick nap before work.
Except tomorrow morning Robert would wake up to an empty bed. "I'll be very quiet."
"Thanks, doll. See you in the morning."
"Have a nice day, Robert."
As soon as he disconnected the call, she ran for the vacuum. Following through would eat into her valuable time, but not doing the job would raise suspicion before she was far enough away. She vacuumed the bedroom and closet, covering all traces of the ladder.
She lugged the suitcase down the stairs with both hands, careful not to leave scuffmarks on the wooden risers. She wasted precious minutes fumbling with the latch on the car's trunk, wishing she had more time to familiarize herself with the older, nondescript rental. While stowing the suitcase, she raced over her mental checklist, ticking off each item.
Back inside, she ran up the stairs, stumbled, and fell with a thud, smacking her shin on the hard wood. Another bruise. Backpack over her shoulder and box in her arms, she rushed back down, committing the sound of her heels clacking to a memory entitled Escape. She stopped at the door of each room. Everything was mopped, shined, and in its proper place.
No reason for Robert to suspect anything was amiss.
From the kitchen window, her reflection stared back at her. The old glass distorted her features in a weird, Picasso sort of way. The image fit. She pulled her sunglasses from the backpack to cover her black eye and bruised cheek—a gift for coming home early last night—and stepped outside. The fog was thick this morning, which helped conceal her from neighbors' prying eyes. She knew they suspected, yet they never said a word. Better to stay out of others' affairs. She also knew if anyone saw her leaving with a suitcase, they wouldn't say anything to Robert. He'd never win a popularity contest in this neighborhood.
The smell of decaying leaves in the corner of the backyard wafted past. Mold. Rot. More memories filed under Escape.
Mist from the fog settled on her face as she looked at the house she'd called home since graduating from culinary school. The roof needed replacing and the old windows allowed cold air to seep in, but the house had been good to her, and she would miss it.
Turning away, she opened the car door, and slid behind the wheel. Inserting the key in the ignition proved almost impossible, her hands were shaking so hard.
Leaving would only provide temporary security. Rob would find her.
She pulled out of the driveway without a backward glance.